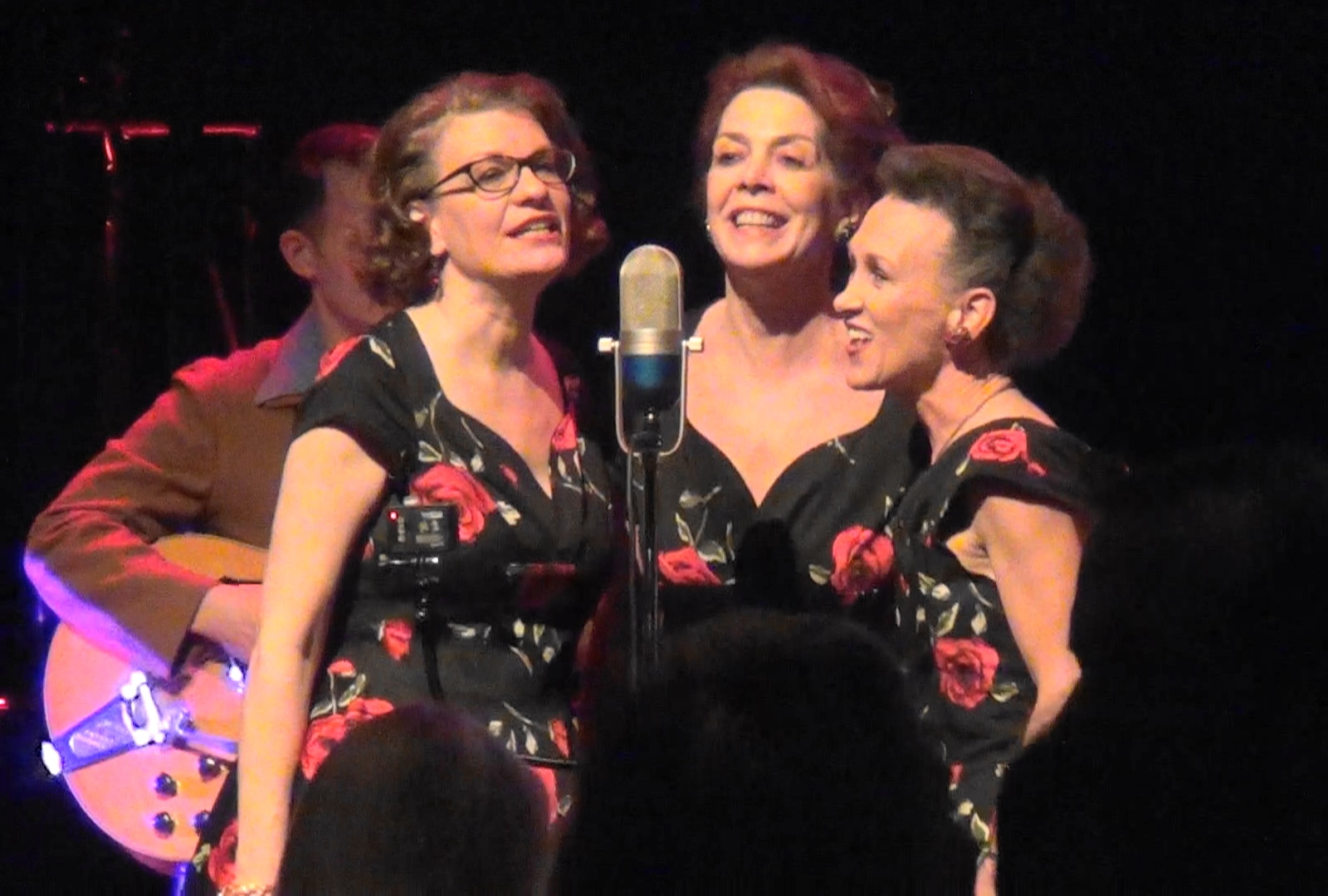 The Crayfish Sisters, featuring Sarah Bonner, Caroline Alderson and Sue Fedor, along with rhythm guitarist Steve Devoney, recreate the emotive and unabashedly direct harmony sound of the Davis Sisters and other vocal groups of the 1950s and 60s. Along with their core repertoire of vintage country harmony, they revive swinging sister trios from the Fontane and Andrews Sisters, pop harmonies from the Chordettes, the Fleetwoods and Everly Brothers and doo wop gems. Their repertoire also includes original harmony arrangements of dance hall and transistor radio favorites by Wanda Jackson, Brenda Lee, Buddy Holly and Gene Vincent.
Sarah and Caroline began their partnership in 2013, reviving old Davis Sisters songs; they were thrilled to welcome Lynn Healy, another Davis Sisters fan, in 2014, and Sue Fedor in 2016, after Lynn retired and left the area. Caroline and Lynn emerged from the close harmony tradition of vintage bluegrass and country, in bands that included Orange Blossom Special, Red Toad Road, Rodeo Motel and the Blue Moon Cowgirls. Sarah and Sue bring to the trio choral backgrounds as participants in choirs, duos and vocal ensembles such as the Capital City Voices. Steve Devoney plays rhythm and lead guitar for the group, along with Sue on ukulele, supporting the trio's acoustic ensemble, as well as full bands, such as the Hall Brothers and Backroads, with whom the Crayfish Sisters perform for dance events. Steve also contributes baritone and bass vocals in the group's doo wop quartets.
Like the Crayfish Sisters, Betty Jack Davis and her partner Skeeter weren't really sisters, but sang as if they were. With songs of love lost or almost had, like "I Forgot More (Than You'll Ever Know about Him)" and "You Weren't Ashamed to Kiss Me Last Night" the Crayfish Sisters bring these and other legacy performances back to life —unvarnished as when they were first pressed more than 50 years ago.